| | |
| --- | --- |
| | |

These replica Ship Rivets are individually hammered from 7 mm (1/4")" diameter round stock, and is 5.5 cm (2 1/8") long. Each rectangular Rove has the hole hot punched and cut from 12 x 3 mm (1/8 x 1/2") flat stock.
This ship rivet is about the size that would be used for the lighter hull of an oak Drakar (or warship). Rivets can be distinguished from nails as they have a cylindrical profile - nails are square and tapered in shape.

A simple object - but a great teaching tool for classroom use about the Viking Age!



Cost for Ship Rivet - $10



---
| | |
| --- | --- |
| | 'Loop & Tab' Box Hinges |

These replica Box Hinges are forged from 12 x 3 mm (1/8 x 1/2") flat stock, each piece is about 20 cm (8") long. Variations on this type of simple 'Loop and Tab' hinge were used on a number of Viking Age chests, most notably in Oseberg and the Mastermyr Tool Box. Sold as a pair, each piece has two hot punched square profile holes. Set includes eight 'hand wrought' look nails (should be cinched over), each about and is 5 cm (2") long.
Cost for Box Hinges (pair) - $35
---
Seax Table Knife
with ornamental 'iron' broach
This replica Table Knife is based on a small collection of Romano-British knives from about 450 AD found in England. Although this is a bit early for Viking Age, they are offered here as an alternative to the often seen 'curved rat tail handle' small knives often called 'Viking Knives'. (These are not any kind of historic type at all, but date only back to the Hippy days of the 1960's !) Each of the Table Knives offered by the Wareham Forge are hammered from mild steel and then water hardened. This produces a blade about equivalent to a modern table knife in terms of durability. This remains significantly harder than the artifact prototypes, which were made of softer wrought iron. The size and exact shape will vary, but the blades are roughly 10 cm + long, with handles comfortable to the hand. The metal surfaces are left rough forged, but the edge ground to sharpness. Use as is, or wrap a length of leather for a handle. A great price for a simple hand forged working knife.
Each is polished on the edge side (only), to a sharp edge.
The handle is wrapped with leather lacing for a secure grip.

Cost for Seax / Table Knife - $40
Also available 'rough forged' - $20
---
Each of these coins are hand struck using dies reproducing those found at Coppergate in York, which date to the early 900's. They are sterling silver and duplicate the same size and weight of the originals (about 3/4" dia. and 1.5 gms).
Go on for more details about the Silver Pennies.
---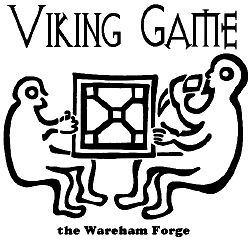 VIKING GAME: A new version of the Norse game "hnefatafl" - or 'kings table'. Features a printed canvas board, glass and cast pewter game pieces all in a draw string bag. Available direct from the Wareham Forge.

Answer a challenge 1000 years in the making!
For more details - go to VIKING GAME.
Custom Orders :
Oseberg tripod and cauldron

Reproductions, at Norse Encampment '94.

Smithing Tools

Based on Mastermyr, at L'Anse aux Meadows.

Viking Weapons

Shield /sword / spear/ Helmet, at L'Anse aux Meadows

Woman's Tool Knife

Pattern welded (blade before hilting)
CUSTOM ORDERS: The Wareham Forge specializes in reproducing artifacts from the Dark Ages, Norse, Saxon and Celtic. Past work has included tent frames, beds, boxes and domestic items of all kinds.