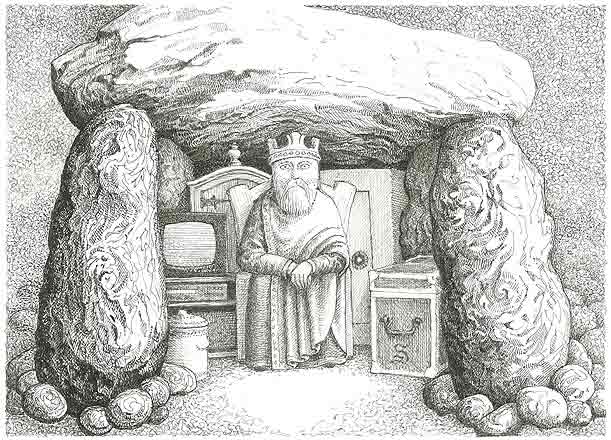 'The King in his Tomb' by Steve Strang
Ashes to Ashes, Dust to Dust…

One of the earliest signs that humans had become more than smart apes can be found as the remains of specifically staged burials. From these most ancient of times, we had the understanding that death was just another stage of a more complex evolution of our spirits. Some of the very first art objects ever created were made for, and placed in, these graves. In this way, the work of the artist has always been a part of our collective death rituals.
For the bulk of human history, our diverse cultures have believed, more often than not, in an active 'life after death', in one form or another. The archaeological record is largely defined, and much of our limited understanding of the past determined, by the examination of Grave Goods. From a joint of meat and stone spear, through to the elaborate tombs of the Egyptians or pottery warrior hordes of the Chinese, some of the finest objects ever created would end their days accompanying their owners into a burial.
But what of our modern times? In North America at least, the traditional rituals surrounding death have been eroded, almost forgotten. The ceremonials of burial are at core more for the living survivors than the dead. In our attempts to be 'modern' we certainly have lost something important. By discarding what is seen as mere superstition, we certainly have lost mechanisms that help us deal with the very real aspects of grief.
In this, the artist still retains a central role. Gathered together for Grave Goods are the reflections of 33 individuals, working in a wide range of mediums, some 80 works in all. The contributions are reflections of their private visions, ranging from social commentary to the practical, through to expressions of the deepest personal experience.
What conclusions about our current age may be drawn by future archaeologists? Only history will tell. If the quality and diversity of the work see in Grave Goods is any measure, the depth of our imaginations at least will not be in question.
Darrell Markewitz