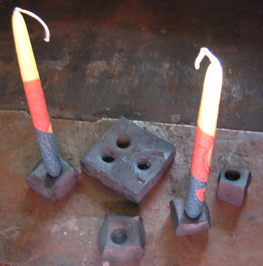 'Massive' series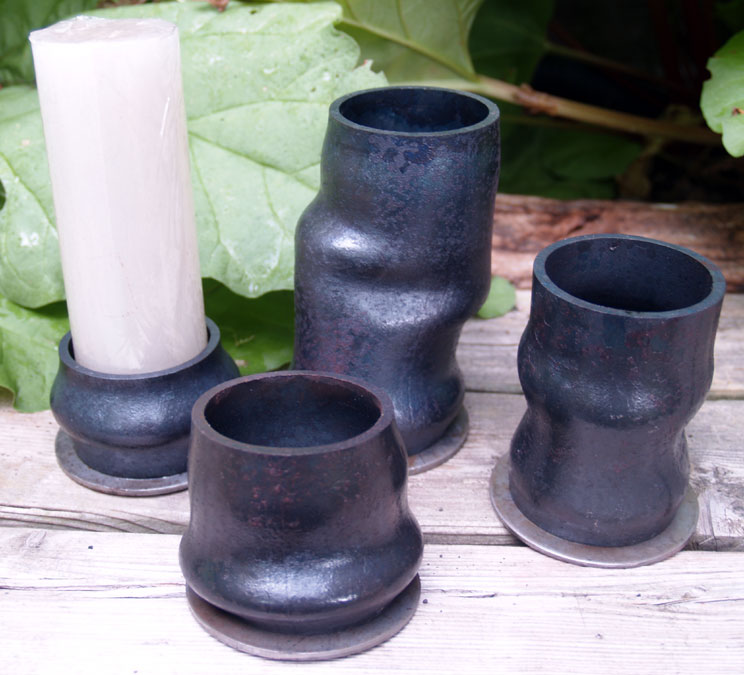 'Compacted' series
'Massive' & 'Compacted' Series
Available! Interested?
range of sizes and shapes : $45 to $90

In 2013 I invested both coin and considerable time into building a 30 ton hydraulic press for the workshop. The primary reason was to asssist in compacting blooms from my iron smelting work. The immense power of the press suggested other forming possilities, which I started to slowly explore. The raw power needed to be carefully controlled, but could allow for the creation of forms difficult for me to accomplish with simple 'one man power'.

the 'Massive' series required some experiments in tools and forming dies. Heavy solid blocks of steel are deformed and shapped, with sockets created that hold a standard 3/4 decorative candle. Although the results seem simple enough, the real surprise comes when the considerable mass of each is found when they are picked up.

the 'Compacted' series starts with large diameter, steel pipe or structural tube. By controlling the application of temperaure, distorted and wrinkled shapes can be be formed under the press. Ideal as unique containers, or holding pillar candles as seen.